Leoni transport Plus
Patient transport with HFO – no problem with the new Leoni plus Transport.
Leoni plus Transport expands your possibilities especially for transport of patients. The device has an integrated high-performance battery that enables stand-alone use for up to 200 minutes in conventional ventilation modes and up to 60 minutes in HFO.
The display adapts to the requirements of the user by means of the free selection of the number of curves and loops and displayed measurement values. Leoni plus Transport has comprehensive ventilation modes: CPAP, IPPV/IMV, S-IPPV/ SIMV and two PSV modes. Leoni plus Transport features certification for ground transport.
Simple and intuitive operation
Uncompromising ventilation performance
Certified for ground transport
12'' TFT colour screen, detachable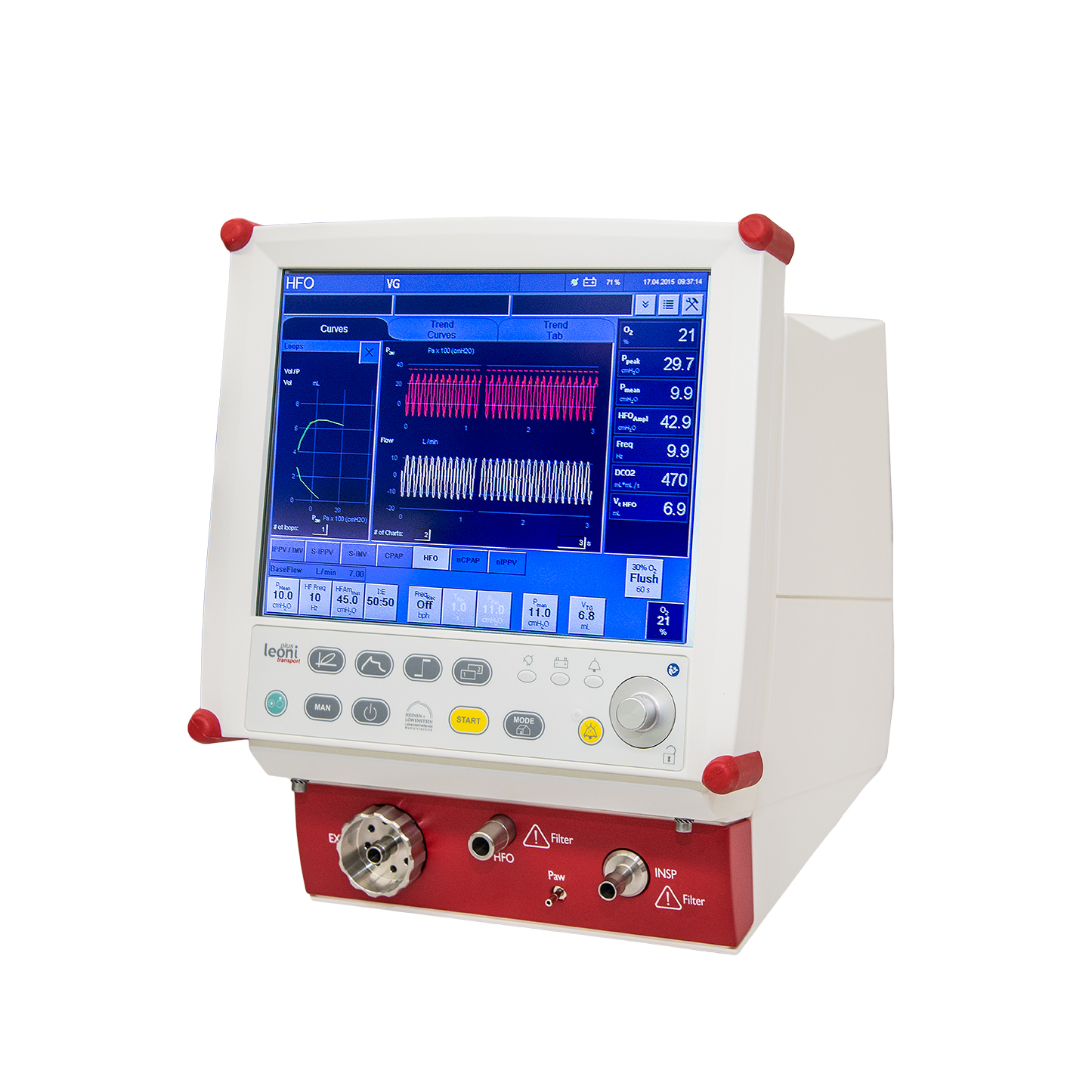 Leoni Plus
Leoni plus is suitable for long-term ventilation of very small premature infants, neonates and children weighing up to 30 kg. In addition to the basic ventilation modes CPAP, IPPV/IMV, S-IPPV and SIMV, the device also features two PSV ventilation modes.
In assisted ventilation modes there is a volume-controlled tidal volume guarantee available.
The precision hot-wire flow sensor at the patient end allows automatic readjustment of trigger sensitivity relative to the patient's tidal volume (VT trigger adaptation).
The extremely powerful, integrated high-frequency module Leoni HFO is of the diaphragm type.
All essential settings, readings, alarm limits and graphic information, such as waves and loops, are available at a glance.
In order to expand the range of possible uses Leoni plus features an integrated battery. This allows off-mains operation for up to 60 minutes in conventional ventilation modes and for up to 30 minutes in HFOV.
PSV
VT trigger adaptation
Frequency band ranges from 5 to 20 Hz.
Waves and loops
TFT multicolour graphic Touch screen, size 12″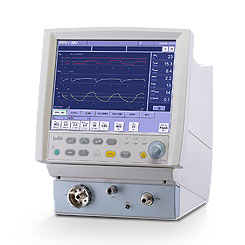 Lifetherm
A resuscitation unit with a lot of different options for optimal adjustment to suit the application as well as the needs of the baby and operating staff.
Swiveling, fast-response radiant heater with integrated examination lamp
Conductive heat by a heated gel mattress
Quiet, electric height adjustment (up to 30 cm) with footswitch control on both sides of the bed*
Gentle electric bed tilting by pressing the corresponding button
Fold-down side panels available in various heights
Skin temperature control and display (accuracy ± 0.1°C)*
Covers available that can be opened on either side, as well as one-piece covers*
Trays which allow the attachment of control panels and ventilators
Standard rails for attaching accessories such as catheter holders, trays or suction devices*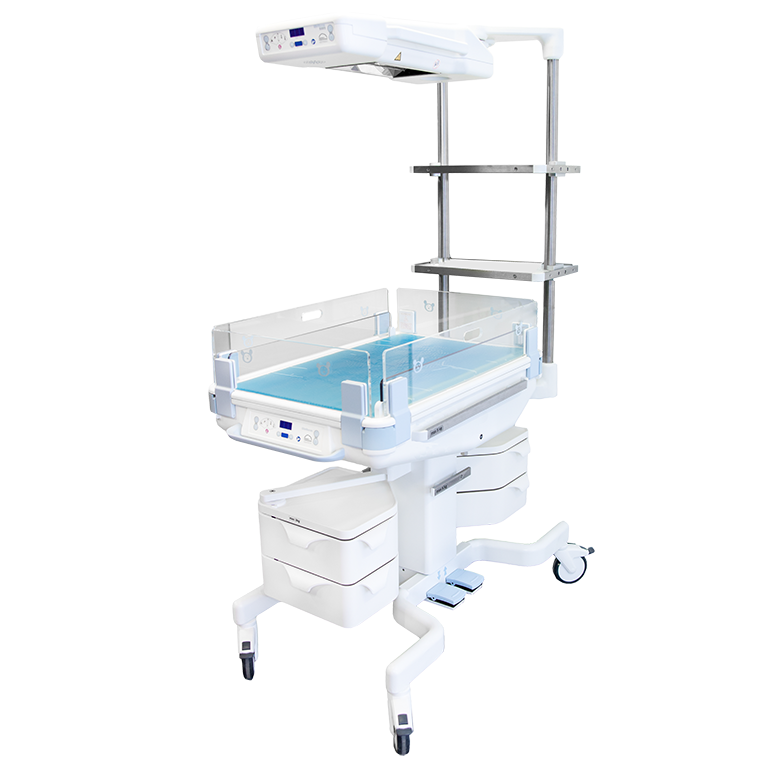 Bilibluelight
Phototherapy is used to treat newborn jaundice in premature and newborn babies to prevent kernicterus as an important complication. In doing so, the unconjugated bilirubin is transformed into a water soluble state by a photochemical reaction and secreted through the gall bladder and the kidneys. The new bilibluelight Bilirubin lamp by Löwenstein Medical is an effective trendsetting phototherapy system to reduce bilirubin in serum. The bilibluelight lamp is user-friendly thanks to the intuitive handling, the high-quality design and the light weight. It has premium high-performance LEDs, which provide more than 40,000 hours of operation. The optimal wavelength provides maximum bilirubin reduction. The compact and light-weight bilibluelight lamp can be perfectly integrated in the neonatal and pediatric wards. The bilibluelight lamp can be further expanded by as 1-arm-mounted luminaire on a wheeled stand.